In the realm of interior design, small spaces often pose a delightful challenge, inspiring creativity and resourcefulness. Among these spaces, the small sitting room takes center stage, demanding careful consideration to strike a balance between style and functionality. When adorned with a bay window, this cozy haven gains an extra layer of architectural charm, presenting an opportunity to transform a modest space into a captivating retreat. Join us on a journey through the art of small living room bay window decorating ideas, as we explore ingenious ideas to make the most of every square inch while basking in the natural beauty that bay windows bring.
Benefits of small living room with bay window decorating ideas
Natural Light Enhancement
Harnessing the abundant natural light streaming through bay windows is key to enlarging the perceived space of a small sitting room. Opt for sheer curtains or light-filtering blinds that allow sunlight to flood the room while maintaining privacy. Consider minimalist window treatments to maximize the visual connection with the outdoors, creating an airy and open ambiance.
Cozy Atmosphere
Small spaces benefit greatly from a cozy atmosphere. Choose a warm color palette, incorporating soft hues and earthy tones to create a welcoming environment. Introduce plush throw pillows, blankets, and area rugs to add layers of comfort. Additionally, strategically placed floor and table lamps can provide soft, ambient lighting for evenings, enhancing the snug and inviting feel of the room.
Space Efficiency
Efficient use of space is crucial in small sitting rooms. Select multi-functional furniture pieces that serve more than one purpose, such as ottomans with hidden storage or coffee tables that can double as workstations. Consider wall-mounted shelves to free up floor space and display decorative items without overcrowding the room. Creating a sense of openness through thoughtful furniture arrangement helps maximize the available square footage.
Intimate Seating Arrangements
Prioritize intimate seating arrangements. Choose furniture that suits the scale of the room and arrange it in a way that encourages conversation and connection. A well-placed loveseat or a pair of cozy armchairs flanking the bay window can create a focal point while maintaining a sense of intimacy.
Focal Point Emphasis
Make the bay window the focal point of the small sitting room by arranging furniture around it. Consider a window seat with built-in storage to maximize both seating and functionality. Frame the bay window with eye-catching drapery or accentuate it with a stylish window treatment to draw attention to the natural beauty outside. By accentuating the bay window, you not only enhance the visual appeal of the room but also make the most of the available space.
Here Are Some Small Living Room With Bay Window Decorating Ideas
Cozy Reading Nook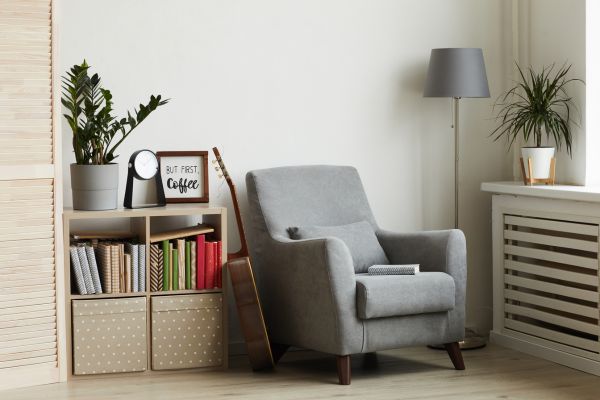 Transform a corner of your small living house into a charming retreat with the addition of a cozy reading nook. Utilize the space beneath the bay window to create a snug area with a comfortable chair or a compact loveseat. Enhance the coziness with soft cushions, a plush throw blanket, and a small side table for your favorite books or a warm cup of tea. Adequate lighting, such as a stylish floor or table lamp, ensures the perfect ambiance for indulging in your favorite reads. This intimate nook not only maximizes the functionality of your small sitting room but also adds a touch of personal sanctuary to your home.
Minimalist Approach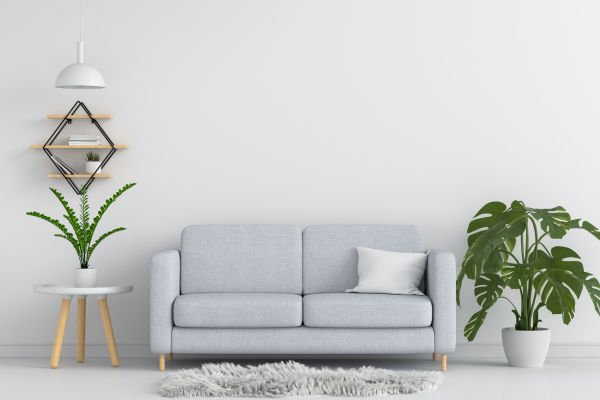 Embrace the beauty of simplicity with a minimalist approach to decorating your small living house. Opt for essential furniture pieces with clean lines and a neutral color palette to create an uncluttered and serene atmosphere. Keep decor elements to a minimum, focusing on quality over quantity. Consider multipurpose items that serve both functional and aesthetic purposes, promoting a sense of openness. A minimalist design not only makes your small space feel larger but also emphasizes the importance of each carefully chosen element, allowing for a sophisticated and timeless look that transcends trends.
Multi-Functional Furniture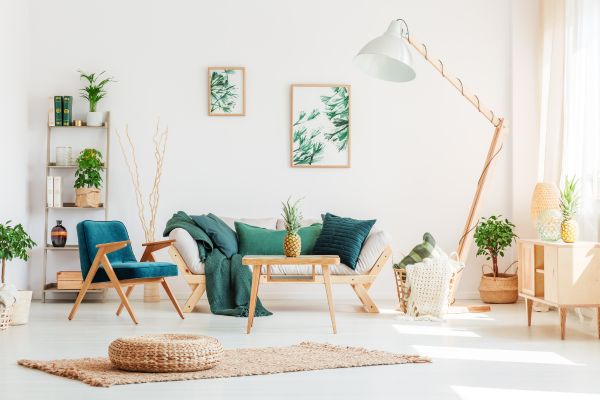 In a small living house, every piece of furniture should earn its keep, and multi-functional furniture is the secret weapon for optimizing space. Invest in items that serve dual purposes, such as a sofa bed for guests, a coffee table with storage compartments, or ottomans that can double as seating and storage. This intelligent use of furniture ensures that your small sitting room remains adaptable to various needs without sacrificing style. The versatility of multi-functional furniture is a practical and space-saving solution, allowing you to make the most of every square inch.
Floating Shelves
Maximize vertical space and maintain an open feel in your small living house by incorporating floating shelves. Mount them on the walls, particularly above furniture or along an empty stretch, to display decor items, books, or even small potted plants. Floating shelves provide storage without taking up valuable floor space, contributing to a visually uncluttered and organized environment. Experiment with asymmetrical arrangements to add an artistic touch while ensuring functionality. This clever storage solution not only enhances the aesthetic appeal of your small sitting room but also offers a practical solution for keeping essential items within arm's reach.
Plant Paradise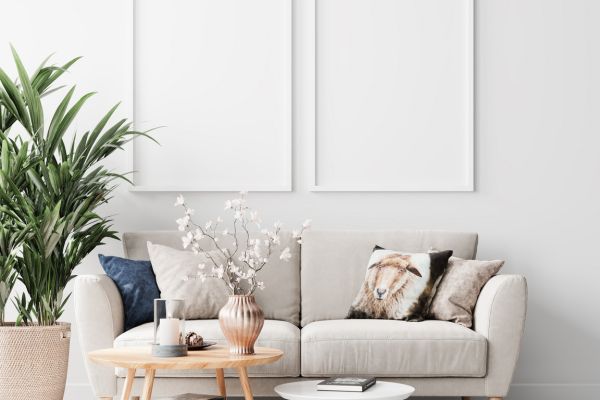 Infuse a breath of fresh air into your little living room by embracing the beauty of indoor plants. Create a plant paradise around the bay window, where natural light abounds. Choose low-maintenance plants like succulents or ferns to add a touch of greenery without overwhelming the space. Hanging planters or slim floor vases are excellent space-saving options, bringing nature indoors while maintaining a harmonious balance in your petite oasis.
Mirror Magic
Amplify the sense of space and light in your small living house with strategic mirror placement. Mirrors reflect natural light, making the room feel more open and airy. Consider a large mirror on one wall, opposite the bay window, to maximize the impact. Additionally, mirrored furniture or decor elements can add a touch of glamour while contributing to the illusion of a larger space. Mirror magic effortlessly elevates the aesthetics of your small sitting room, creating a visually enchanting atmosphere.
Window Treatments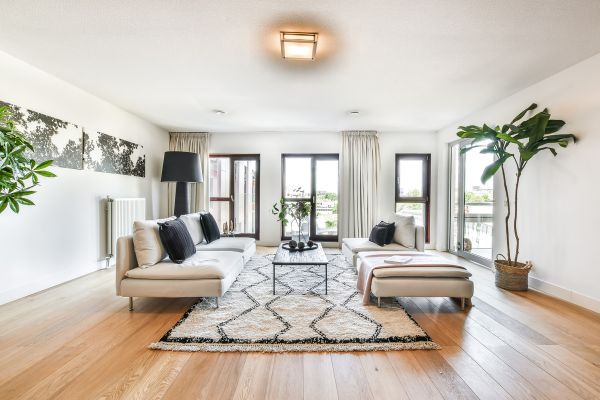 Enhance the charm of your bay window by choosing the right window treatments. Opt for light and airy curtains that complement the color scheme of your decor. Sheer fabrics allow natural light to filter through while maintaining privacy. Consider floor-length curtains to elongate the visual height of the room, creating a sense of grandeur. Additionally, utilizing curtain rods that extend beyond the window frame gives the illusion of a broader space. Thoughtful window treatments not only add a touch of elegance but also play a pivotal role in shaping the overall ambiance.
Lounge Seating
Transform your small living house into a cozy retreat by incorporating comfortable lounge seating. Choose compact sofas or love seats that fit snugly into the available space. Arrange the seating to encourage intimate conversations or cozy reading corners. Poufs or floor cushions can serve as additional seating options without overwhelming the room. Soft, plush fabrics and layered throw pillows contribute to a welcoming and inviting atmosphere. By prioritizing comfort and style, you can curate a lounge area that maximizes the use of your small living room without sacrificing aesthetic appeal.
Artistic Accent Wall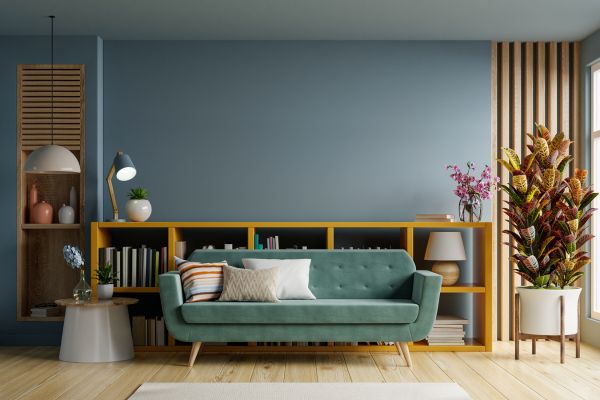 Elevate the visual interest of your small living room by creating an artistic accent wall. Choose a focal point, preferably the one opposite the bay window, and adorn it with bold artwork or vibrant wallpaper. This attention-grabbing feature adds personality and depth to the room, diverting attention from its size. Consider a gallery wall of small artworks or a large statement piece that reflects your unique style. An artistic accent wall becomes a captivating backdrop, making your little living room feel curated and visually dynamic.
Foldable Furniture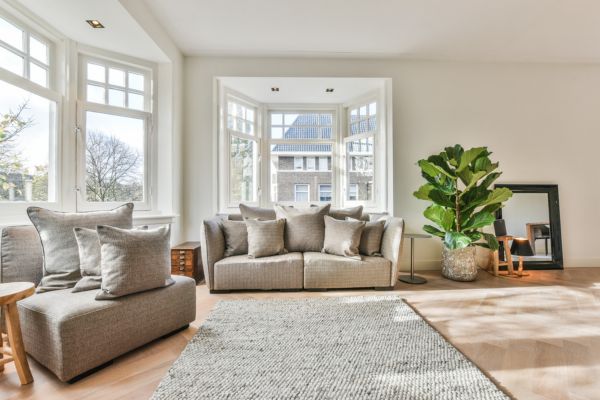 Embracing multifunctional furniture is key when dealing with limited space. Foldable furniture, such as collapsible chairs and tables, provides flexibility without compromising style. Opt for pieces that can be easily stowed away when not in use, instantly freeing up valuable floor space. This minimalist approach ensures your small living room remains open and inviting, allowing you to adapt the layout to various activities.
Built-In Storage Bench
Maximizing every inch of your living room is crucial, and a built-in storage bench serves this purpose seamlessly. Placed beneath the bay window, it not only offers additional seating but also provides concealed storage. This smart design solution keeps clutter at bay, making the most of the often-underutilized space beneath the windowsill. Customize the bench with cushions and pillows to create a cozy reading nook or an extra seating area for guests.
Layered Rugs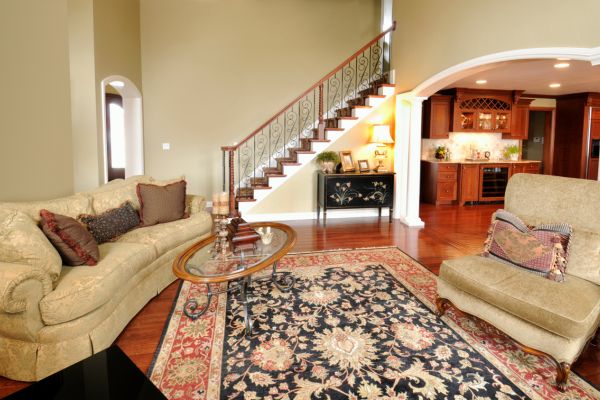 The strategic use of layered rugs can visually expand and define specific zones within your small living room. Experiment with different textures, patterns, and sizes to add depth and interest. A well-chosen rug can anchor your seating area, creating a focal point that draws the eye away from the room's size. Additionally, rugs provide an opportunity to infuse color and personality into the space, tying the decor elements together seamlessly.
Convertible Coffee Table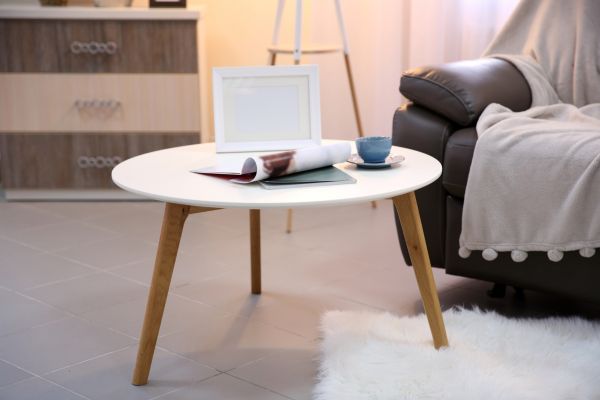 A coffee table that can adapt to various needs is a game-changer in a little living room. Consider a convertible coffee table with adjustable height or expandable sections. This functional piece can serve as a compact surface for daily use and transform into a spacious dining or work area when needed. Investing in such versatile furniture ensures that your living room remains dynamic and can effortlessly accommodate different activities without feeling cramped.
The Final Thought
Transforming a small living room with a bay window decorating ideas into a stylish and functional space is not only possible but also immensely rewarding. Embrace the natural light and architectural charm of the bay window by strategically placing furniture, opting for multipurpose pieces, and incorporating clever storage solutions. Choose a cohesive color scheme and utilize space-saving decor to enhance the room's aesthetic appeal. Whether you're aiming for a cozy retreat or an elegant entertainment area, thoughtful design and creativity can turn limitations into opportunities.