Designing a toddler girl's bedroom can be a fun, Creative and exciting experience for both you and your little one. However, Finding the perfect decor items on a budget can be a challenge. Luckily, there are many great toddler girl bedroom ideas that won't break the bank. In this article, We will discuss some of the best toddler girl bedroom ideas on a budget. From furniture and wall decorations to DIY ideas that will make your daughter's room one-of-a-kind.
1. Hang Bistro Lights
Adding bistro lights to a toddler girl bedroom can be a great way to create a fun and magical atmosphere – especially when it's done on a budget. Bistro lights come in a variety of colors, Shapes, And sizes. They can add an elegant touch while creating an inviting ambiance that your little one will love. Bistro lights are perfect for toddlers' bedrooms. They also look great in other spaces such as living rooms, Nurseries, And playrooms.
With hanging bistro lights you don't have to break the bank either. There are plenty of affordable options available online or at your local hardware store. When choosing the right bistro light for your toddler's room, Think about the overall design theme you're going for; Classic white or warm yellow.
2. Star Wallpaper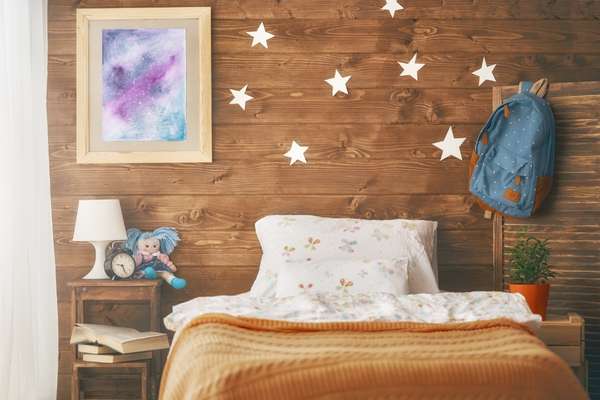 Decorating A toddler girl room on A budget doesn't have to be difficult. Star wallpaper is an affordable and easy way to transform her room into A fun and whimsical space. Whether you choose solid stars or constellations, Star wallpaper comes in a variety of styles and colors. With so many choices, You can easily find something that matches your little one's personality and preferences.
Adding star wallpaper to the walls gives you more than just an aesthetically pleasing look. It also creates an atmosphere of wonderment for your child as she dreams of all the possibilities the night sky holds. It makes for great toddler girl room ideas on A budget.
3. Pink Area Rug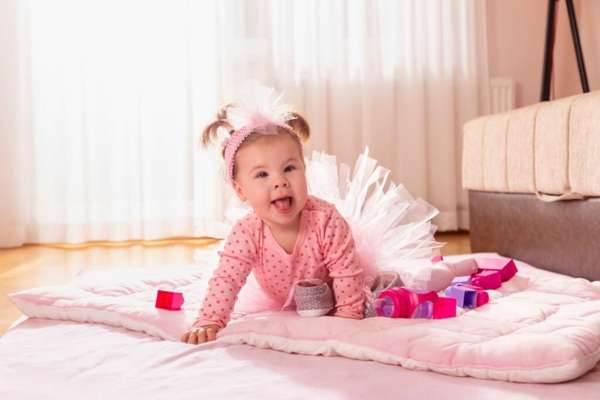 Adding A pink area rug is an inexpensive way to add some style and color to the room. A quality area rug is also A great way to create A comfortable play space for your little girl. They are soft on their feet and make the room look inviting. Plus, If your daughter loves pink, She will be sure to adore this addition!
When shopping for a rug, Think about the size of the room and choose one that fits accordingly. If It's too small or too big, It won't look right in the space. Consider materials like synthetic fibers or wool depending on how much foot traffic the rug will get. These materials are easy to clean and can last for years with proper care.
4. Create A Gallery Wall
Creating A gallery wall for your toddler girl bedroom can be an exciting and cost-effective way to give her room a unique feel. Whether you're decorating on A budget or just looking for creative wall art ideas, A gallery wall is A perfect addition to any bedroom. It's also easy to make and doesn't require an expensive designer or lots of time. Here are some tips to help you create the perfect gallery wall on A budget:
First, Choose artwork that will bring color and life into your daughter's room. You can use prints of her favorite characters, Quotes that inspire her, Family photos, Or fun patterns. Try not to overload the space with too much visual clutter as this could overwhelm your child's senses. Instead, Pick pieces that complement each other without being too busy.
5. Bedroom Nursery
Creating A beautiful toddler-girl room nursery within A budget doesn't have to be difficult or expensive. With some creative ideas and the right pieces, You can create A cozy and inviting space for your little girl. Here are some tips on designing an affordable toddler-girl bedroom nursery.
When creating A bedroom for your toddler, One of the most important aspects is safety. Look for furniture pieces that are sturdy, Secure, And free from sharp edges. If you're working with limited funds, Thrift stores are great resources for finding quality furniture pieces at discounted prices. Also, Consider replacing old dressers with colorful paint finishes if you don't find something suitable at thrift stores.
6. Consider The Pink Room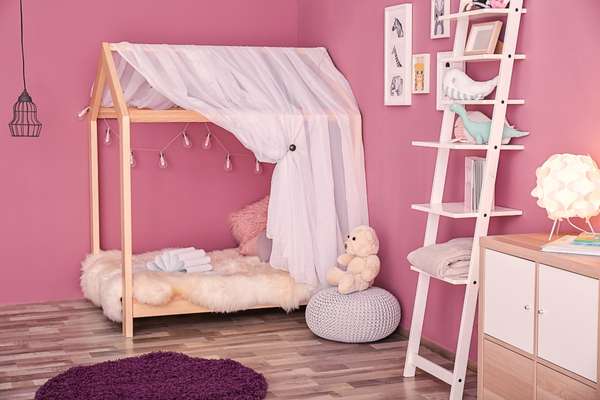 Creating A toddler girl's room on A budget can seem like an impossible task. However, With creativity and resourcefulness, Parents can create the perfect pink room for their daughters. In this article, We will explore how to decorate a pink bedroom on A budget while also making It special and unique for your little girl.
When It comes to designing the perfect pink room, Parents need to think outside the box. They should consider using items from around the house or repurposing old furniture pieces. With some imagination, Even simple items like bed sheets and curtains can be used creatively to make the bedroom look amazing without breaking the bank. Parents may also want to check out garage sales or second-hand stores for affordable décor finds that can add pizzazz to any space.
7. A Combination Of Ornaments
The perfect toddler daughter's bedroom is an exciting task and It doesn't have to be expensive! Combining ornaments can help you create the ideal space that your little one will adore. With the right combination of elements, You can make a cozy, Eclectic room without breaking the bank.
Start by finding some DIY bedroom decoration ideas that fit into your budget. You could try creating paper garlands with colorful tissue paper or painting plain wood frames for a personal touch. Consider adding some affordable hand-made items like crocheted doilies or unique pillowcases. These small touches will add character to your daughter's room without costing too much money.
For bigger statement pieces, You may want to purchase something special from A thrift store or vintage shop. These stores often have unique finds for very reasonable prices!
8. Toddler Girl Reading Space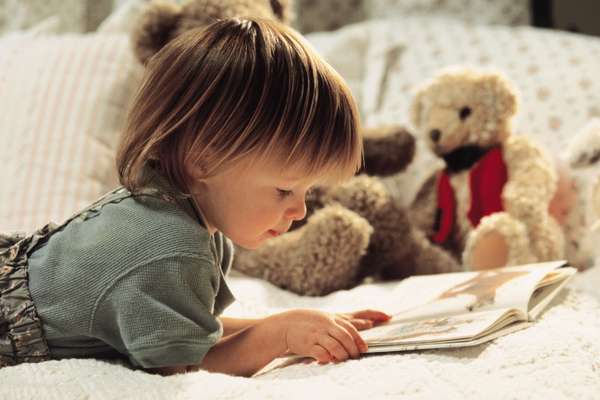 With just A few creative solutions there are plenty of ways to make the perfect reading space for your toddler girl without breaking the bank.
The most cost-effective way to spruce up any bedroom is with paint! Selecting one wall in the room, Consider painting It A bold hue or pattern. It will stand out without overwhelming the rest of the room. If you have an older daughter, You can always let her pick out her own shades and get involved in creating her special place! After adding color with paint, Look into inexpensive décor options such as pillows or rugs. These can help bring texture and interest into the bedroom while still keeping within your budget.
9. Add Colorful Frames
Adding colorful frames to A bedroom can be the perfect way to add a unique, Artistic touch to any room. For those looking for toddler girl room ideas on A budget, Colorful frames offer an inexpensive and simple decor solution. Not only will they tie together the color palette of the room, But they also can become part of an increasingly creative arts and crafts project you can do with your daughter.
When looking for frames, Try to keep them in line with the theme or colors of your daughter's room. Whether It's picking out her favorite cartoon character's frame or finding A more classic style with pastel colors, There are plenty of options available on even the tightest budgets. You don't have to spend much money either- Thrift stores often have interesting frames that you can use or repurpose.
10. Bed With Drawers
Drawer beds come in many different styles so you can find one that will fit your daughter's personality. From bunk beds to platform beds and four-poster beds, There are plenty of options for you to choose from. Drawer beds provide an extra storage solution for clothes, Toys, And books. It also gives your child's room A neat and organized look without breaking the bank. Additionally, Many drawer bed frames have adjustable headboards which make It easier to customize the bed as your daughter grows older.
11. Colorful Rainbow Wall Hangings
Expert moms know that making a special place for your toddler daughter's bedroom can be a fun, Yet challenging task. If you're on a budget, Finding affordable ways to make her room look beautiful and inviting may seem impossible. However, there is one great idea that doesn't break the bank: Rainbow Wall Hangings! These colorful wall hangings are an amazing way to bring life into her bedroom.
They come in various sizes and colors so you can find the perfect fit for your little one's space. Whether It's in the form of tapestries, Banners, Or even artwork, These wall hangings are sure to add cheerful vibes and excitement to your toddler daughter's bedroom on A budget. Not only will they liven up her walls but they also provide an opportunity for creativity.
12. Beautiful Pink Canopy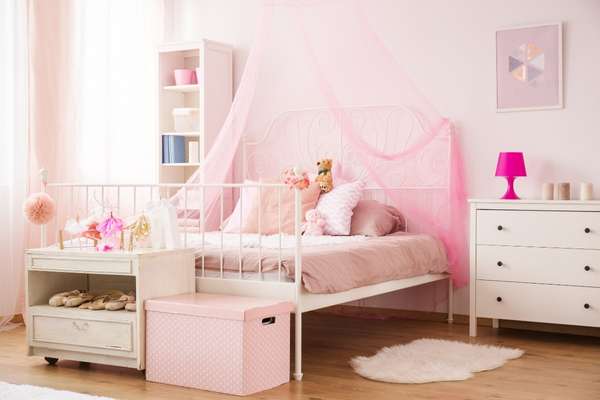 One of the most effective ways to do this is to invest in a beautiful pink canopy! Pink color add an elegant touch. It can be used as part of the overall design aesthetic. From traditional designs with curtains to modern styles with mesh netting, There are plenty of options available that won't break the bank. The best part about using a canopy is that It will provide your daughter with an extra layer of privacy and security while she's dreaming away in her cozy space.
Plus, You can easily find different fabrics or materials so you can create an atmosphere that reflects her unique style. With all these possibilities at your fingertips, You're sure to find just what you need to make your little one's bedroom look amazing on any budget!
13. Toddler Girl Room With Balloons
A magical bedroom for your little girl doesn't have to cost an arm and a leg. With these simple, Budget-friendly toddler girl room ideas, You can easily transform her room into A whimsical wonderland! A great place to start is with balloons – they add instant charm with minimal effort and expense. Hang bunches of colorful balloons from the ceiling or fill the room with balloon garlands. You can also get creative and create shapes like stars or animals out of them. Just use different colors to give them depth and dimension.
Add some fun accessories like paper lanterns, Twinkle lights, Or fabric butterflies to take the look even further. By carefully selecting pieces that match your little one's unique personality, You can create an enchanted space where she'll love spending time.
14. Create A Space For Teddy Displays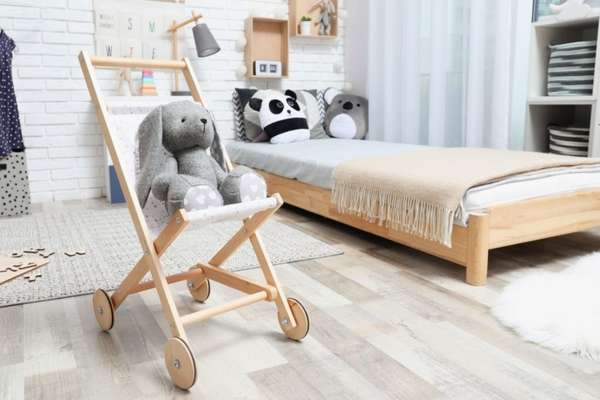 Creating A space for teddy displays in your toddler girl's bedroom can be easier and more affordable than you think. When decorating on A budget, It's important to find ways to make the most of what you already have and add touches that will upgrade the look of the room without breaking the bank. Whether It's through wall art or stuffed animals, There are many creative ways to create A charming teddy display that your little one will love!
Start by gathering all your daughter's favorite stuffed animals – These can act as decorations in their own right with the added bonus of being cuddly companions too. Display them around the bed or hang them from shelves or frames to create an eye-catching focal point in her room.
15. Paint A Dark Wall On A Budget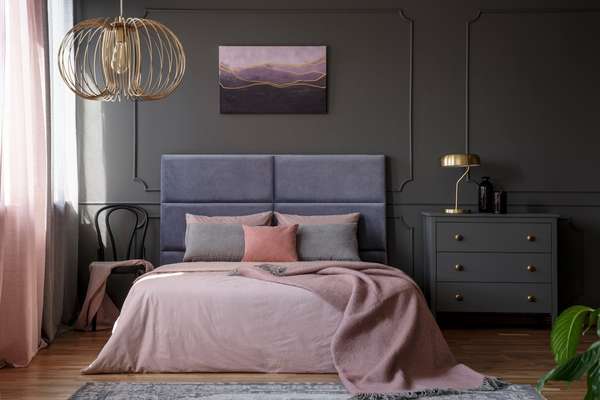 Creating a magical, Whimsical toddler-Girl bedroom doesn't have to stretch your budget. With some creativity and resourcefulness, You can paint a dark wall on A budget while creating an enchanting space that your little one will love. Here are some ideas for transforming your toddler's room into an aesthetically pleasing oasis without breaking the bank in the process.
The use of color can make a big difference when It comes to giving your toddler's bedroom A unique vibe. Painting one wall with A dark hue such as navy blue or charcoal grey creates an interesting contrast against lighter colors like white or pastel pink. Doing this yourself is also fairly inexpensive and easy to do with the right supplies and instructions. You'll need primer, paint, Brushes, Rollers, Tarps, And painter's tape for the best results.
16. Toddler Girl Room With Fairy Lights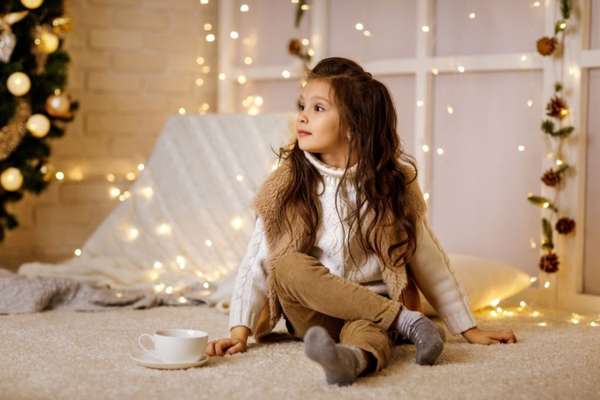 Designing A toddler girl bedroom on A budget doesn't have to be difficult. You can create an enchanting space for your little one with some creative and inexpensive ideas. One of the best ways to add sparkle and magic to a kid's bedroom is to use fairy lights! Not only will they light up the room, But they also make It look beautiful and whimsical. Fairy lights come in all shapes, Sizes, Colors, And designs which makes them easy to find ones that fit your budget and theme perfectly.
Plus, You don't have to worry about cords or wires getting tangled up as most fairy lights operate on batteries or solar power! With just A few strands of these twinkling lights, You can transform your child's room into A dreamy wonderland without breaking the bank.
17. Put Soft Toys Up In The Hammock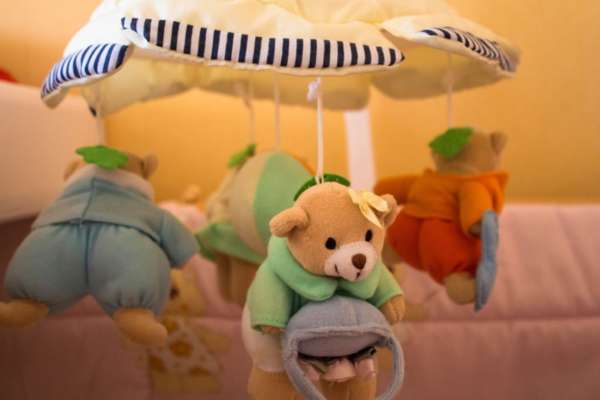 Creating A unique and creative bedroom on A budget can be quite A challenge, But It can also be great fun. One way to make your toddler girl's room stand out without spending too much is by hanging a hammock from the ceiling and putting some soft toys in It. This cute and cozy idea will give her space an eclectic touch as well as plenty of comforts. Furthermore, If you get creative enough, You may even find that the furniture pieces and decorations in the hammock don't require any additional purchases!
Hanging up A hammock for your toddler daughter bedroom is not only an inexpensive way to bring extra color into her room but also provides an opportunity for imaginative playtime. Soft toys like teddy bears or dolls provide ideal companions while lounge time in the hammock, Allowing her to explore new ways to have fun.
18. Low Photo Bookshelf In Bedroom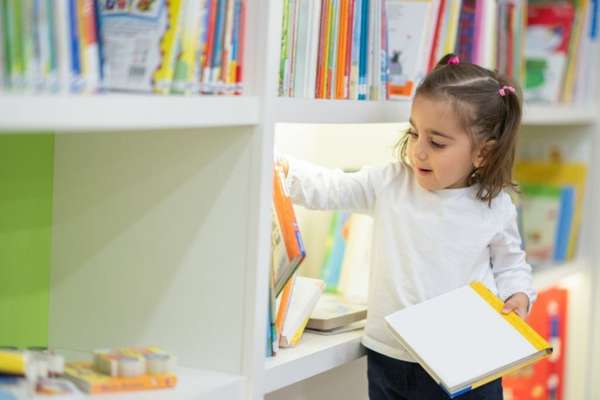 One great way to add design interest while saving money is by using A low photo bookshelf in your daughter's bedroom. This piece of furniture is ideal for displaying favorite books or stuffed animals, As well as showcasing framed photos and art prints. Not only does It provide extra storage without taking up much room, But It also doubles as an interesting focal point in the room.
Plus, It won't put too much strain on your budget! You can easily find ready-made versions online or at home decor stores – just measure the space before you buy so that you get the right size shelf for your daughter's room.
19. Dollhouse Bookcase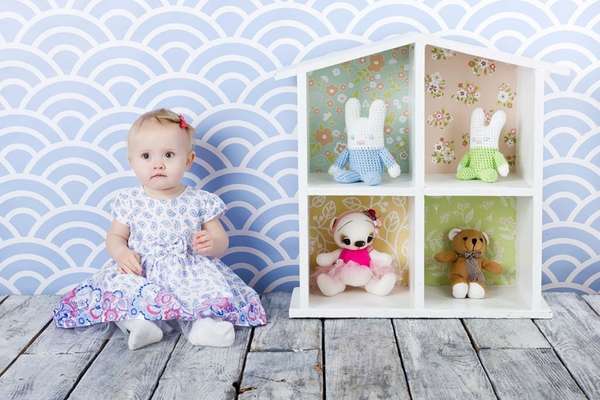 Decorating A toddler girl bedroom on A budget can be challenging. However, Once you find the right pieces to complete the look, It can be easy and fun! One great way to spruce up A bedroom is with a dollhouse bookcase. Not only will this piece add character to any room, But It also doubles as storage and display space for your child's favorite books and toys. Plus, It offers an interactive play experience that encourages creativity in every little girl.
The best part? You don't have to break the bank for one of these stylish bookcases – many come at an affordable price point! Dollhouse bookcases are perfect for adding an imaginative touch to any toddler daughter's bedroom while still staying within your budget.
20. Hand Painted Toddler Girl Table And Chair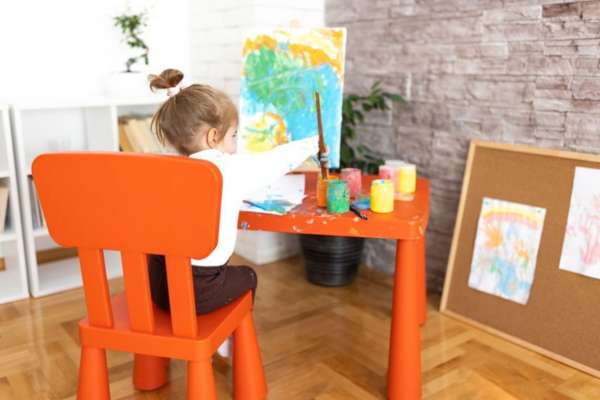 Creating a fun, Inviting and comfortable place to play in your toddler girl's room doesn't have to cost you a fortune. With some creative thinking and clever ideas, You can create the perfect bedroom on a budget. Here are some tips for creating an inspiring space where your little one can explore and imagine without breaking the bank.
Begin by looking around your home for items that could be repurposed for your child's room. An old dresser can be transformed with a fresh coat of paint or decals; Chairs from other rooms can be upcycled with fabric; and bookshelves create great storage solutions for all of their toys. You don't always need to buy new – search secondhand stores, Garage sales, Or online marketplaces for treasures that may just need A bit of love.
21. Use A Geometric Design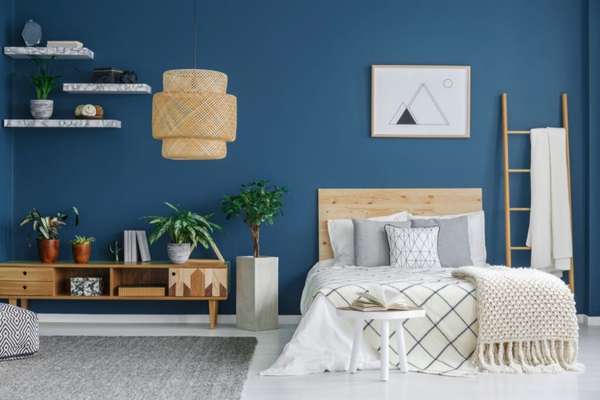 The trend of geometric design is becoming more and more popular for home decor. It is A great way to incorporate style and personality into any room, especially a toddler girl bedroom. But It doesn't have to be expensive – With some clever budgeting, You can create an eye-catching, modern space on a tight budget.
From simple wall decals to colorful bedding with geometric accents, There are plenty of ways to add geometry to your little girl's space without breaking the bank. You can also focus on incorporating furniture pieces that feature geometric shapes or use artwork and accessories featuring bold colors in interesting patterns. With these tips in mind, You'll easily be able to make your toddler's bedroom stand out while keeping within your budget!
What Do Toddler Girls Need In Their Bedroom?
Toddler girls need A bedroom that is both comfortable and stimulating. Comfort-wise, The room should have A comfortable bed with plenty of pillows and blankets, As well as A soft rug on the floor for them to play on. The walls should be decorated in bright colors that make the room feel cheerful and inviting. Stimulation-wise, There should be toys and books within reach so that she can explore her interests.
A dress-up corner with costumes and accessories is also great for fostering imagination and creativity. Finally, It's important to provide A safe environment where she can move around freely without fear of hurting herself or damaging any furniture or decorations.
How To Decorate a Toddler Girl Bedroom On Budget?
One of the most cost-effective ways to decorate is to look for secondhand items. Thrift stores, yard sales, And online marketplaces like Craigslist or Facebook Marketplace can be great sources for unique pieces that will add character to the room without breaking the bank. You can also look for DIY projects that you can do yourself, Such as painting old furniture or making wall art from recycled materials.
These stores offer a wide variety of items at lower prices than traditional retail stores. Additionally, You can often find coupons and deals online that make these purchases even more affordable.
Conclusion
Toddler girl bedroom ideas on A budget can be achieved with A little creativity and research. From rearranging furniture to finding stylish, Budget-friendly accents, There are plenty of options to create the perfect room for your daughter. Shopping at discount stores such as thrift shops, Flea markets, And online marketplaces can help you save money while still achieving the look you want. Additionally, Taking into account your daughter's likes and dislikes will make decorating easier and more enjoyable.