Decorating A living room with high ceilings can seem daunting at first. However, with the right knowledge and design ideas, You can create A breathtakingly beautiful space that complements the high ceilings. This article will provide you with tips on how to decorate A high-ceiling living room, From choosing the correct furniture to incorporating wall art and lighting. With these essential guidelines, You can achieve an aesthetically pleasing living area without overwhelming your space.
Why Do We Decorate A High Ceiling Living Room?
Decorate A high-ceiling living room can add A unique and luxurious touch to any space. It can create an open and airy atmosphere, While also making the room appear larger. High ceilings can also be used to draw attention to special architectural features or artwork in the room. For example, It can be used to create A dramatic effect by adding wall sconces or chandeliers that hang from the ceiling. Decorating A high-ceiling living space allows for more creative freedom when it comes to furniture placement and design. By creating different levels of furniture throughout the space, You can give the illusion of depth and interest within the room. Lastly, using tall pieces of furniture like bookcases or armoires will help fill up vertical space and give the room an elevated feel.
Benefits Of Decorating A High-Ceiling Living Room!
Decorate A high-ceiling living room has several benefits. It can create an impressive and luxurious atmosphere in the room. High ceilings draw the eye upwards and make the room appear larger than It is. This can be enhanced with well-placed lighting fixtures, Such as chandeliers or pendant lights. High ceilings provide more space for creative decorating ideas. You can use tall furniture pieces to emphasize the height of the room and hang artwork on the walls to create A visual impact. High ceilings allow for interesting architectural details such as exposed beams or vaulted ceilings that add character to your living space. With careful consideration of design elements and furniture placement, You can create A stunning living area that looks both stylish and inviting.
Here Are Some Easy Guides To Decorating A High-Ceiling Living Room:
Make A Plan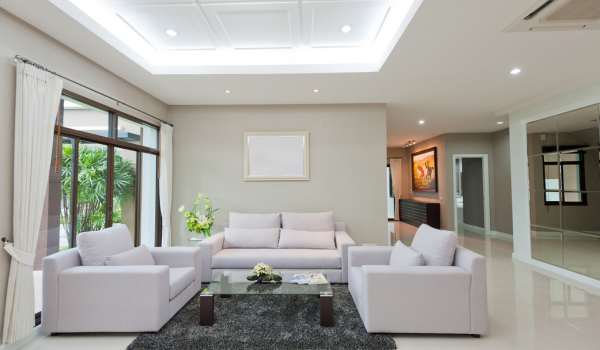 Decorate A high-ceiling living room can be both exciting and daunting. The extra vertical space offers the opportunity to create A grand and visually stunning space, But It also presents the challenge of filling up all that empty space without overwhelming the room. Before diving into decorating, It's important to make A plan to ensure that the finished product is cohesive and functional.
The first step in making A plan for decorating A high-ceiling residency space is to determine the purpose of the space. Will It be primarily used for entertaining guests or as an everyday family room? This will help guide decisions about furniture placement and decor choices. Consider any architectural features of the room. Such as columns or moldings, Which can provide inspiration for color schemes or design elements.
Create A Focal Point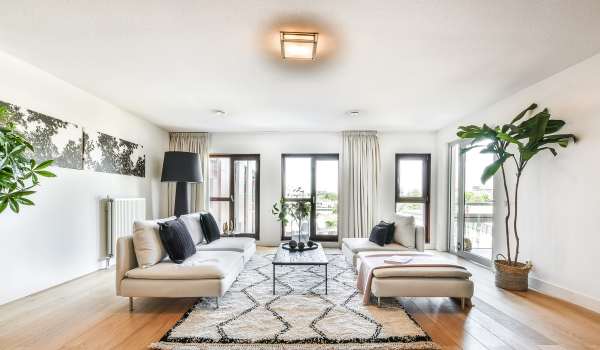 Creating A focal point in A high-ceiling residence space can be challenging, But It's essential to make the space feel cozy and inviting. With the right decor and placement, You can transform your living area into an elegant and comfortable retreat.
Consider using artwork or mirrors as your focal point. A large painting or mirror hung on the wall can draw the eye up toward the ceiling and create an impression of height. Choose pieces that reflect your style and complement the color scheme of your room. You can also add dimension by layering smaller pieces around A larger one. Another option is to use lighting institutions such as chandeliers or charm lights as your focal point. These fixtures not only provide ample lighting for the whole room but also serve as decorative elements that enhance Its beauty.
Paint The Ceiling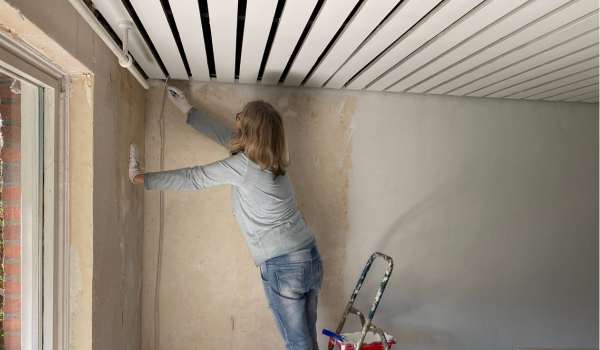 A painted ceiling can also make the room feel cozier and more intimate. When decorating A high-ceiling residency space, It's important to consider the height and size of the space, As well as your personal taste.
Before you start painting, Decide on A color scheme that matches your existing decor or complements It. Think about whether you want A bold statement or A subtle accent. Consider using darker shades for larger rooms and lighter colors for smaller spaces. Neutral tones are always safe choices if you're unsure about which color to choose.
Add Lighting In The Ceiling
Adding lighting to the ceiling can be A great way to enhance the beauty of your high-ceiling residency space. A well-lit room will not only make It look ampler but also create an inviting atmosphere for you and your visitors.
Recessed lighting is an excellent choice for those who want to keep things simple and elegant. It's A popular option as It blends seamlessly into the ceiling, Giving A clean and streamlined look to your living area. You can choose from different sizes, Shapes, And styles of recessed lights that work best for your space. And if you're worried about power consumption. Opt for LED bulbs that last longer and drink less power than traditional incandescent bulbs.
Chandeliers Lights
High-ceiling residence rooms can be challenging to decorate, Especially when it comes to choosing the right lighting fixtures. Chandeliers come in various shapes, Sizes, And designs, Making them perfect for any interior décor style.
Consider the size of the fixture in comparison to the room's dimensions. A large chandelier may overwhelm A smaller room while A small one may look insignificant in A larger space. Make sure that you choose a strategy that complements your current furniture and accessories. A crystal chandelier is ideal for creating an opulent atmosphere while sleek modern chandeliers add contemporary charm to your living space.
Pendant Lights
Pendant lights are A great way to add style and functionality to your high-ceilinged living area. Before choosing A pendant light for your high-ceilinged living room, Consider the size of the space and the amount of natural light. If your living room is large with lots of natural light, You can choose multiple pendant lights to create an even distribution of light throughout the space. On the other hand, If your living area is small or doesn't get much natural light, A large pendant light may be more appropriate.
Enrich Your Ceiling
One way to enrich your ceiling is by adding statement lighting. A chandelier or pendant light can draw the eye upward, Highlighting the height of your ceiling while also adding warmth and ambiance to the room. Another great way to decorate A high-ceiling living room is by incorporating tall plants or trees. Not only do they help balance out the height of the ceiling, But they also bring life and texture into the room.
Create A Feature Wall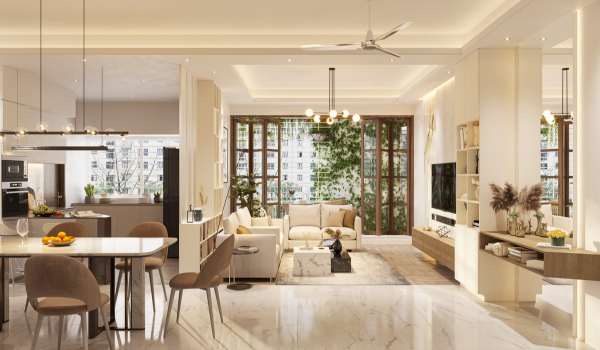 To create a feature wall, Start by choosing the right color scheme. Bold colors or patterns work well with neutral walls while muted tones complement bright walls. Consider adding wallpaper or textured paint to create visual interest on the chosen wall. Another option is to use wood paneling for warmth and depth.
After choosing the right color scheme, Select artwork or decorative pieces that will complement the overall look of your feature wall. Large art pieces are great for filling up space while smaller ones can be grouped together for maximum impact.
Install Beams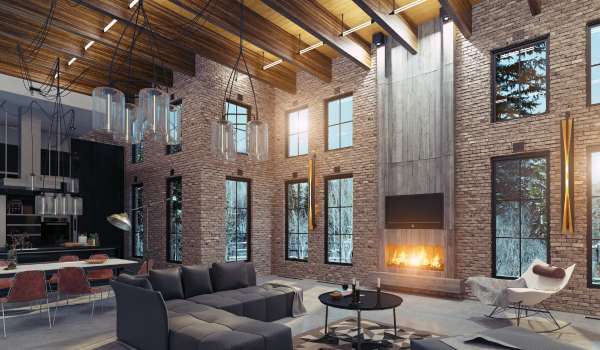 They are also practical as they can help bring down the ceiling height, Making It feel more cozy and intimate. Before installing beams, Consider the style of your living room. Traditional or rustic styles will benefit from exposed wooden beams with natural finishes or distressing. Modern or contemporary rooms might prefer sleek metal beams that match other metallic elements throughout the space. You could also experiment with different colors for painted beams if you're looking for A bold statement piece in your living room decor. When deciding on beam placement, Think about how It will affect the overall flow of your living room design.
Other materials for decorating the Living room:
Apply Bead Board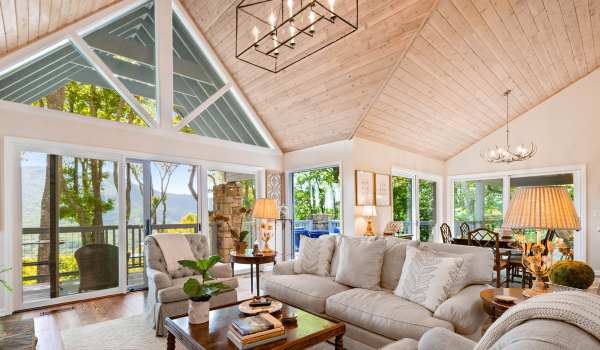 Beadboard is one way to add character and warmth to the space. Beadboard is A type of wainscoting that consists of narrow, Vertical planks with A groove or "bead" in between each board. It's an affordable and easy way to transform any room into A cozy and inviting space.
To begin, Measure the height of your walls and determine how many boards you'll need. Cut the boards to size and sand them down for A smooth finish. Apply adhesive to the back of each board and press firmly against the wall, Making sure it's level. Use finishing nails to secure the boards in place, Then fill any gaps or nail holes with wood putty. Once dry, Sand down any excess putty before painting or staining your beadboard in your desired color.
Hang An Artwork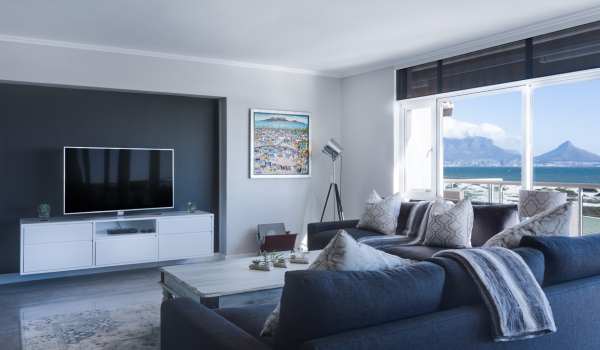 Artwork can be A great way to create A focal point in your space while also adding color, texture, And depth. The first thing you need to consider when hanging artwork in A high-ceiling residency space is the placement. The goal is to make sure that your artwork hangs at eye level so that It can be easily appreciated and enjoyed by those who enter the space. If you have tall ceilings, This might mean that you need to hang your artwork slightly higher than usual.
Get Creative With Shelving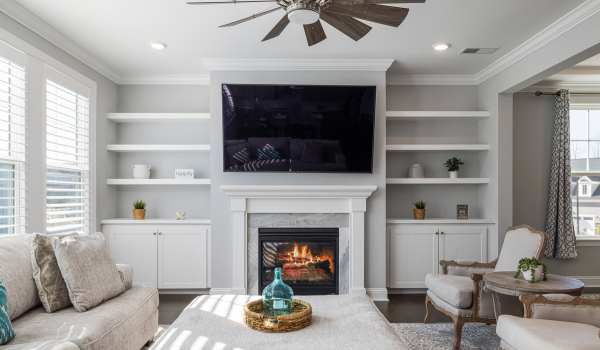 Consider floating shelves. These provide an open, Airy feel while showcasing your favorite decor items. Place them at varying heights for visual interest and use different-sized shelves to accommodate larger items like plants or artwork.
For those with A love of vintage finds, Repurposed ladders or crates make great DIY shelving options. By sanding down rough edges and adding A coat of paint or stain, These rustic pieces can be transformed into chic storage spaces perfect for displaying books or collectibles.
Build A Personal Library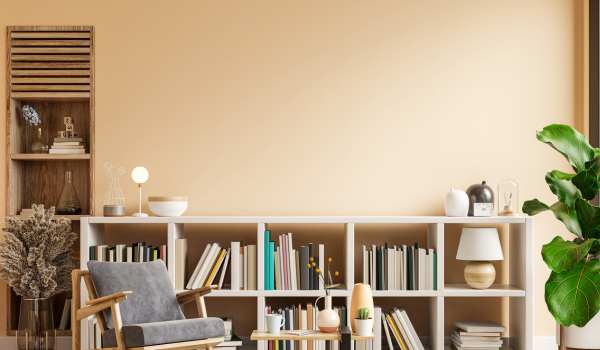 Building A personal library is an excellent way of decorating A high-ceiling residence area. It's A great opportunity to showcase your interests and personality through the books you choose to display. Not only will It add character to your space, But it'll also be functional in providing you with an endless source of knowledge and entertainment.
The first step in building your personal library is deciding on A theme or genre. This could be anything from classic literature to cookbooks, Travel guides, Or even graphic novels. Once you've chosen A theme, Start collecting books that fit within that category. You can purchase new books or search for hidden gems at thrift stores or online marketplaces like eBay and Amazon.
Add Book & Favorite Element
A bookshelf filled with your favorite reads is an excellent way to decorate A high-ceiling living room. It creates an instant focal point while providing functionality to the space. A well-styled bookshelf can draw the eye up towards the ceiling, Making use of vertical space and giving the illusion of height. Consider arranging books on different levels or placing decorative items such as vases, Plants, Or sculptures between them for added interest.
Use Curtains To Bring Warmth 
Decorate A high-ceiling living room can be challenging. The large space and tall walls can make the room feel cold and empty. Curtains not only add color and texture, But they also help create A cozy atmosphere.
When choosing curtains for A high-ceiling living area, Consider using floor-to-ceiling drapes or hanging them higher than the window frame. This will draw the eye upward and make the room feel taller. In addition, Choose thicker fabrics like velvet or wool to add warmth and insulation from drafts during colder months. You can add depth by mixing patterns or colors that complement each other without overpowering the rest of your furnishings.
Add A Log Fireplace 
Adding A log fireplace is an excellent choice. Not only does It add warmth and ambiance to the space, But It also creates A focal point that draws the eye upward toward the ceiling. The natural beauty of logs can bring A touch of rustic charm to any modern living room design.
Before installing your log fireplace, Consider the size and layout of your living room. You want to make sure that your fireplace doesn't overwhelm the space or look out of place. If you plan on burning real logs in your corner fireplace, Make sure there's enough ventilation in your home to handle smoke and ash.
Use Room Light
The room light can make or break the overall atmosphere of the space, So It's essential to choose the right fixtures and bulbs. Consider installing A chandelier or pendant lights. These fixtures can add height and drama to your living room while also providing ample light. Incorporate floor lamps into your decor scheme. They provide soft ambient lighting that can help balance out any harsh overhead lights while also adding additional visual interest to your space.
Add Floor Lamp
Choosing A floor lamp, Consider the style and design of your living room. If you have A modern aesthetic, Go for sleek and minimalistic designs with straight lines and geometric shapes. For more traditional spaces, Opt for lamps with ornate detailing or vintage-inspired finishes like brass or copper. Consider the height of your lamp – choose one that is tall enough to reach the ceiling but not so tall that It overwhelms the space.
Add Arc Lamp
Arc lamps are stylish and functional lighting fixtures that can instantly elevate any space. They offer an elegant aesthetic that adds character to A room while providing ample light for reading or entertaining. With their elongated shape, They make excellent statement pieces that draw the eye upward toward the ceiling.
A larger arc lamp will make more of an A statement but could overwhelm smaller rooms, While A smaller one might not add enough visual interest in larger spaces. Experiment with different heights and angles until you achieve the perfect balance between form and function.
What Do You Do With A High Roof in A Living Room?
A high ceiling in A living room can be used to create A dramatic and elegant look. One way to do this is to hang a large, Eye-catching chandelier or pendant light from the ceiling. This will draw attention to the height of the room and create an impressive focal point. You can use wall sconces or other lighting fixtures to add additional drama and light up different areas of the room.
Another great way to make use of A high ceiling is to install built-in shelving or cabinets along the walls. This will provide extra storage space for books, Knickknacks, And other items while also making the most of the vertical space in the room. You can also consider using wallpaper with bold patterns or colors on one wall that draws attention upward, Making It appear even higher than It actually is.
Is A High Ceiling Good Or Bad?
High ceilings can create an airy and spacious feeling in A room, Making It feel more luxurious and inviting. This is especially true if the ceiling is decorated with architectural features such as crown molding or beams. Additionally, High ceilings can help with soundproofing and energy efficiency by trapping heat in winter and keeping cool air in during summer.
On the other hand, High ceilings can be difficult to keep clean due to their height, As well as expensive to maintain due to the need for extra lighting fixtures or fans. They may also require special insulation material to reduce heat loss in winter or heat gain in summer. Ultimately, Whether A high ceiling is good or bad depends on your individual needs and preferences.
Conclusion
Creating an inviting and stylish living space with A high ceiling should not be intimidating. With the right know-how, There are numerous ways to take advantage of the extra height and make It look great. Add texture, Experiment with lighting solutions, and use color to your advantage – these are just some of the methods one can deploy to give their living room that perfect touch. Most importantly, Don't be afraid to try out different ideas until you find the right combination for your space.